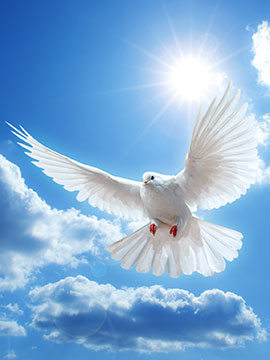 Obituary of Rocco Peter "Pete" Volpe
Please share a memory of Rocco to include in a keepsake book for family and friends.
Rocco Peter (Pete) Volpe, 92, Loving Husband, Volunteer, Loyal Friend
Rocco Peter (Pete) Volpe, a loving husband, family stalwart, volunteer, and loyal friend passed away at home on May 25, 2023, at the age of 92.
For 34 years, Pete was the devoted husband to Barbara Ann Cordano Volpe, a kind, caring, loving, strong, and generous person. She predeceased him in 2011 after a long, debilitating illness. Married September 4, 1976, they spent their live together as the "perfect match" after meeting at Air Reduction Co. Inc. of Murray Hill, where she worked as a librarian and he as a chemist.
Born September 12, 1930, Pete was the first in a long line of cousins in the Santangelo Italian immigrant family of Newark. Though considered to be a generally quiet man by nature, he made friends easily. It can honestly be said that he never spoke unkindly of anyone and tried to see the inherent good in everyone.
His mother, Vincenza "Jennie" Santangelo Volpe, was the first child of his grandparents Antonio and Lucia who came to the United States from the Naples area of Italy. Regrettably, after a brief illness, his mother died in 1934 at the age of 28, leaving Pete, age 4, and his younger brother, Anthony Robert (Bob) Volpe, age two, to be raised by their grandparents with support from aunts and uncles. His brother, Anthony, predeceased Pete in 2020.
The brothers were very close throughout their lives and, like true friends, stayed connected to their childhood friends from Newark. Pete was also a devoted son-in-law to his mother-in-law, Helen, whom he often included in family events.
Pete attended St. Michael's Elementary School in Newark and in the fourth grade became an altar boy at St. Michael's Church. As a youngster, and then well into his teens, he played the drums and practiced for hours in the garage in the backyard of the family home on Clifton Avenue.
Pete was well aware of and appreciative of the many sacrifices, unflinching support, and encouragement given to him by his maternal aunts and uncles, as well as his grandparents, as they guided him through his formative years. His immigrant family instilled in him the importance of acquiring an education and developing and maintaining a strong work ethic. Pete commuted to South Orange to attend Seton Hall Prep and then Seton Hall University. Earning a Bachelor of Science degree in chemistry in 1953, he was the first of many of his cousins in this large Italian family to graduate from college.
He entered the military becoming a member of the 50th Armored Division of the US Army National Guard, once known as the Jersey Blues.
During his adult years, Pete was employed at Air Reduction Company, National Starch, and Unilever. He began his career as a research chemist, was involved with other talented workers in developing patents, and was soon promoted to product manager for many products and services. Pete also was an active member of the Board of Directors of The King's Daughters Day School in Plainfield, New Jersey. His most important responsibility entailed being adviser to the Board on keeping the physical facilities up to code. On one occasion, he helped with an application for a state grant to assist the school. Pete also worked as a volunteer escorting patients ready for discharge from Robert Wood Johnson Hospital in Somerville.
Pete continued a lifelong interest in sports as an avid fan of the New York Giants football team. He, his brother, and some of their childhood friends had season tickets for the games and would organize tailgate parties before the games. Going to Monmouth Park and the Meadowlands race tracks, attending monthly poker games, playing pinochle, rooting for the Yankees, and watching early national television shows such as Jackie Gleason's The Honeymooners and the Andy Griffith Show were activities he really enjoyed.
Most of all, Pete liked being around family and hosting as well as attending family gatherings. Even though he was tall in stature (six feet, two inches tall), he will be remembered as a "gentle giant" and a kind, generous, and thoughtful person.
He is survived by eight first cousins who grew up in and around Newark, as well as numerous other relatives now spread across the country and in Italy.
"Forever in our Hearts"
To send flowers to the family or plant a tree in memory of Rocco Volpe, please visit Tribute Store
Share Your Memory of
Rocco
416 Bell Avenue, Raritan, NJ 08869
Phone: (908) 725-1887 | Fax: (908) 725-7298

---