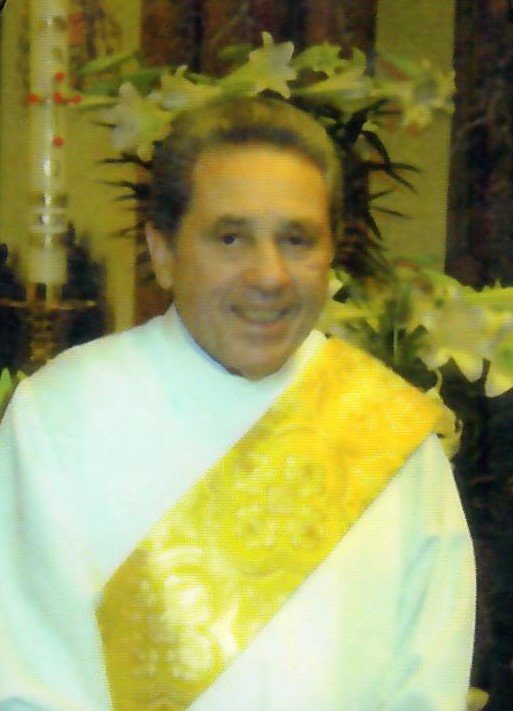 Obituary of John Raymond Pacifico, Sr.
Deacon John R. Pacifico
RARITAN- Deacon John Raymond Pacifico, 91, died at his home on Friday, June 28, 2019 surrounded by his loving family. He was born on November 26th 1927, at 13 Doughty Street in Raritan to parents Gennaro and Filomena. He had a brother Vincent who was fourteen months older and a sister Rose who was eighteen months younger.
He remained a lifelong resident of the borough of Raritan moving to 256 Weiss Terrace in 1960 when a new house was built for him. There he raised his family with his wife Dottie and their two children John and Jean. He was an active member of his community and church. He graduated from Somerville High School in 1945 and holds a B.S. degree in Business Management and a Master's Degree in Education, both from Rutgers University. He first began working at the Johns Manville Research Center in Finderne in the accounting department as an inventory clerk and banker.
After that he became a school business administrator serving for 24 years with the Hillsborough Township Board of Education and later as an interim for 12 other school districts.
John was a mentor and consultant for the New Jersey State Department of Education and has served as President of the New Jersey Association of School Business Officials.
Deacon Pacifico served on the Raritan Recreation Commission for more than 30 years. That included a stint as chairman 1978 – 1988. He also served on the Raritan Borough Council from 1988-1991 when he ran for mayor on the Democrat ticket. He has served on various Boards, Commissions, and Committees and was Chairman of the Boroughs 50th Anniversary Committee in 1998, and was Chairman of the 100th Anniversary Committee of St. Ann's Church in 2003.
For 15 years he served on the Bridgewater-Raritan Youth Services Commission. He has been a member of the John Basilone Committee for more than 33 years. For 31 of those years he was chairman.
Pacifico's religious service began in 1935 as an altar boy at St. Ann's Church, where he had also served as a Lector and Eucharistic Minister, and now serves as a permanent Deacon. He was ordained in the first class of permanent deacons in the Diocese of Trenton in 1977. And in 1984, was appointed the first Assistant Director of Deacons in the Diocese of Metuchen. He has been a leader of many church activities and had served as President of various religious organizations, including the Somerset County Federation of Holy Name Societies, the Industrial Catholic Men's Club and the Somerville Area Ministerial Association.
Pacifico served in the United States Army of Occupation in Germany and France in 1951 and 1952. From 1971 to 1973 served as the Commander of VFW Post 1748 in Raritan.
He is the recipient of a number of awards, recognitions and commendations. In 1980, he was presented with an Extraordinary Service Award from the Hillsborough Township Board of Education for his perfect attendance at all 307 regularly scheduled official Board meetings from September 14, 1964 to February 25, 1980. In 1996, he received the Marconi Scholar Award from the Marconi Foundation and the Regina Nostra Medal from the Diocese of Metuchen, and in 2002, the Legion of Honor Humanitarian Award from the Chapel of Four Chaplains.
He has received a number of commendations from the Borough of Raritan, including a Special Proclamation in 1996, the Key of Raritan in 1998, and a Certificate of Recognition in 2003.
His honors in 2005 include the UNICO National Americanism Award in recognition for organizing annual parades for Congressional Medal of Honor Recipient Marine Sergeant John Basilone and a Joint Legislative Resolution unanimously adopted by the New Jersey Senate and General Assembly commending and congratulating him for his exceptional endeavors in honoring Basilone. Also in 2005, the Raritan Recreation Commission placed his name on a memorial at the Frelinghuysen Field as one of the Founding Fathers of Raritan Recreational Programs. In 2006, the North Plainfield World War II Veterans Committee presented him with an award for his many years of outstanding service as Chairman of the John Basilone Parade Committee, and the Holy Name Society of St. Ann Church granted him a Lifetime Membership Award.
In 2007, he received the Borough of Raritan's first "Volunteer of the Year" award. In 2009 he was elected the first President of the Raritan Chapter of UNICO National. In 2010 he was presented with a proclamation and a bronze replica of the famous Iwo Jima Statue from Governor Chris Christie for his 23 years of service as Chairman of the Annual John Basilone Memorial Parade and for his commitment to honoring those who have fought to defend our freedoms and preserve our way of life, and for his many years of civil and public service to the residents of the Garden State.
In 2015, he received a Joint Legislative Resolution unanimously adapted by the New Jersey Senate and General Assembly honoring and saluting him for his remarkable record of community leadership and exemplary volunteerism, especially with respect to the Annual Sergeant John Basilone Memorial Parade and Commemorative Concert and for establishing with all the spheres of his life and work a model to emulate and set a standard of excellence toward which others might strive.
His sports activities included baseball, softball, umpiring, bowling, basketball, tennis, and table tennis. While serving in the Army in Germany in 1952, he played on the 7th Army championship softball team, and as battalion table tennis champion, he competed in the 7th Army and EUCOM tournaments. In 1959, he was the Somerset County table tennis singles champion. He has been an avid N.Y. Yankees fan since 1936.
Sadly his wife Dorothy of 58 years passed away on January 25th 2017. She served as Social Ministry Coordinator for the Diocese of Metuchen and for St. Ann Church where she also directed the Bereavement and Lazarus Ministry Programs. His son, John, is assistant plant manager for Trans World Marketing in East Rutherford, and his daughter, Jean, is a Teacher at Franklin Township High School.
SPECIAL SERVICE TO THE DIOCESE OF METUCHEN
1982 – Appointed to the Study Commission of the Diaconate by Bishop Theodore McCarrick
1982 – Appointed to the Diocesan Council for Financial Affairs by Bishop McCarrick
1984 – Appointed Assistant Director of Deacons by Bishop McCarrick
1996 – Presented with the Regina Nostra Medal by Bishop Edward Hughes
2003 – Appointed to the Diocesan Pastoral Council by Bishop Paul Bootkoski
2005 – Re-appointed to the Diocesan Pastoral Council by Bishop Bootkoski
2006 – Appointed to the Task Force on Education for the Diocese of Metuchen by Bishop Bootkoski
2012 – Appointed to the Diocesan Historical Records Commission by Bishop Bootkoski.
John is survived by his loving children Jean Pacifico (William Urban) and John R. Pacifico, Jr. (Linda).
Viewing will be from 2:00pm to 7:00pm on Monday, July 1, 2019 at the Catholic Church of St. Ann 45 Anderson Street, Raritan, NJ. A funeral liturgy will be 11:00am on Tuesday, July 2, 2019 at the Catholic Church of St. Ann followed by a burial alongside his beloved wife Dorothy at St. Bernard Cemetery, Bridgewater, NJ.
"FOREVER IN OUR HEARTS"
To plant a tree in memory of John Pacifico, Sr., please visit Tribute Store
Visitation
2:00 pm - 7:00 pm
Monday, July 1, 2019
St Ann's Catholic Church Of Raritan
45 Anderson Street
Raritan, New Jersey, United States
Funeral Mass
11:00 am
Tuesday, July 2, 2019
St. Ann's Catholic Church
45 Anderson Street
Raritan, New Jersey, United States
Burial
1:00 pm
Tuesday, July 2, 2019
St. Bernard's Cemetery
Route 28
Bridgewater, New Jersey, United States
Share Your Memory of
John
416 Bell Avenue, Raritan, NJ 08869
Phone: (908) 725-1887 | Fax: (908) 725-7298

---