Recommend Anita 's obituary to your friends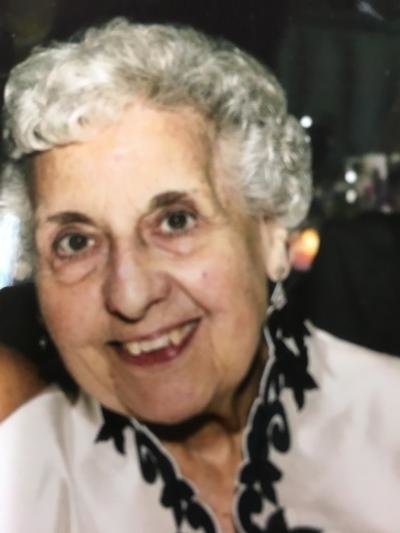 Obituary of Anita Louise Macaro
Bernardsville – Anita Louise Macaro, 98, peacefully passed away on Thursday, August 1, 2019 surrounded by her loving and devoted family. She was born on October 25, 1920 in Staten Island, NY to the late Giovanni and Edina (nee Lidoni) Mattei. She married her beloved husband Armand on December 3, 1950 and later moved to Bernardsville where she lived for over 68 years.
Anita loved her family. She especially enjoyed spending time with her great-grandchildren and her visits with them. She also cherished her faith, enjoyed embroidery, cross word puzzles, and jigsaw puzzles. She was an avid reader who always loved a good book. Anita was very involved with her church, First Presbyterian of Bernardsville, for more than 50 years. She was involved in volunteering in many church projects, most notably instructing the youth in Christian formation.
Anita loved her family business, O.K. Shoe Store, where she enjoyed working alongside her husband and her daughter Sandra. She managed the family business best as sales representative and bookkeeper. She later went on to work at Lobel's children's department store as a sales representative. Her final employment was as a checker at the Bernardsville Shoprite, where she proudly worked to the age of 87. Anita was known for her warm, strong, and caring personality. She always had a kind word for everyone. She truly cared and was kind to others in how she treated people in word and deed.
Anita is survived by her daughter, Sandra (Louis) Falconeri; grandchildren: Daniela (John) Albright, Anthony Falconeri, Michele (John) Smith, and Michael Falconeri; great-grandchildren: Juliana, Emma, Joanna, Nicholas, Thomas, and Matthew. She is survived by her sister Alba Chironna and many nieces and nephews. Anita will be greatly missed by all who knew and loved her.
She is predeceased by her husband; Armand F. Macaro; brothers: William, Henry, John, and Servio, and sister Edina Pillarella.
Viewing will be held Sunday, August 4, 2019, from 4pm-8pm. Viewing Monday, August 5, 2019 from 10am-11am with funeral service to beginning at 11am at Bongiovi Funeral Home, located at 416 Bell Ave, Raritan, NJ. (908) 725-1887. Interment to follow at Somerset Hills Memorial Park Cemetery, Basking Ridge, NJ.
In lieu of flowers, donations can be made in Anita's name to Bernardsville Fire Company No. 1. PO Box 745, Bernardsville, NJ 07924 (908) 766-6625.
"Forever in Our Hearts"