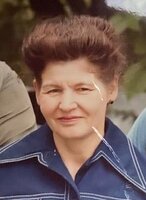 Anna Nekrasovas
HILLSBOROUGH- A lifelong resident of Hillsborugh, Anna Nekrasovas, 94, died peacefully on Wednesday, May 10, 2023.
In 1956, Anna came to the United States. Together with her husband they raised their family on a farm where they also raised cows, chickens, geese, goats and her cats and dogs. Anna loved the animals especialy her favorite cows were Mami, Bruno and Goldi Lox. She truly enjoyed cooking, the outdoors and on the weekends in Englishtown with her friends. Anna was a member of the St. John Luthern Church in Bound Brook. Anna made every effort to always provide her love and the best for her family.
Anna is survived by her son Viktor and wife Robin and John and wife Angel and a grandson Greggory. She is predeceased by her husband Viktor in 2002, her sons Edward (1996) and Robert (2014).
Viewing from 10am to 11am on Monday, May 15, 2023 at the funeral home. Followed by burial at Neshanic Cemetery, Hillsborough, NJ.
"Forever in our Hearts"