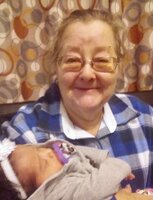 Dorothy VanDoren
On April 27 2023 Dorothy VanDoren peacefully transitioned into the afterlife.
She was best known by friends and family as Dee. She was a beloved mother, grandmother and Ggma.
Dee was predeceased by her husband Lloyd VanDoren, daughter Hope VanDoren as well as both of her parents Edward and Marion (Dilts)Ragan, brothers Edward Ragan Jr, David Ragan, and sisters Ruth Drake, Mabel(Betty) Waida.
Dee is survived by daughters Heather VanDoren, Holly Arroyo(Frank) and her 10 grandchildren Tyler VanDoren, Damian VanDoren, Noni Walker, Brianna Arroyo, Sarah Walker, Isabella Arroyo, Jada Walker, Hugh Nelson, Autumn Walker, Peach Arroyo , as well as her beloved great grandchildren Tyler Jr, Logan, Liam (VanDoren), James (Norton), Josiah, Anaiah (Wroten), Lucas,Benjamin, Liliana, Alina(Ruiz), Cyrus (Macilroy)Jr., Gabriel, Gianna (Narvaez). She also has many honorary grandchildren whom she loved as her own.
Dee loved to fish and cook, she was a talented crocheter as well as many other talents. She would make Christmas ornaments out of old light bulbs. She loved roses and hummingbirds. Her knowledge of the world around us was vast. She taught her daughters about the plants and animals and how to cook and laugh. Dee lived a long hard life she battled mental health issues since her childhood but she still had a big heart. Her family was everything to her. She was very proud of her Irish roots.
Dee did not want a funeral however on her birthday
7/20/23
our family will be gathering at Duke Island Park to have a memorial bbq in honor of her memory.
Funeral arrangement are under the direction of Bongiovi Funeral Home.
We ask that lieu of flowers donations can be made to help with the cost of her cremation. If you wish to donate you can send donations to:
Bongiovi Funeral Home, PO Box 1, Raritan, NJ 08869. Please make checks payable to Bongiovi Funeral Home memo- Dorothy VanDoren Funeral.
To send an on-line condolence please visit www.bongiovifuneral.com.
"FOREVER IN OUR HEARTS"