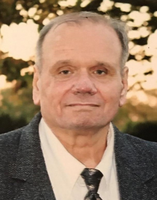 Frank George Kursay
Bridgewater, NJ
Our beloved Frank Kursay has passed away on November 25, 2022 at home with his loving family beside him. Frank was born in New Brunswick, NJ on February 23, 1945 to his parents Mary (Hero) & Frank Kursay. He lived in Edison and moved to Bridgewater to start and raise his family with his wife Jeanne in 1975. He attended Edison High School, graduated from Rutgers University and was an Army veteran who served in Vietnam. He taught high school biology & earth sciences at Middlesex High School for 31 years.
Frank's favorite pastime was listening to & recording music, doing word searches, wood working, computers, spending time with his family & neighbors along with his love for animals. He was predeceased by his parents & in-laws, Frank & Mildred Lescosky. He will be sadly missed by family, friends, relatives, neighbors and former students.
Frank is survived by his loving wife Jeanne of 51 years, son James Kursay & granddaughter Julia of Hillsborough, daughter Christine McCann, husband Robert & granddaughter Riley of Skillman. Brother-in-law Dr. Frank Lescosky, nephew John of Winterville, N.C. & sister-in-law Donna Lescosky & wife Rosa of Dunedin, Fl.
Viewing will be held on Tuesday, November 29, 2022, from 4:00-8:00PM at the Branchburg Funeral Home 910 Route 202 South, Branchburg, NJ (908) 526-7638. Funeral services will be held at a later date at Brigadier General William C. Doyle Military Cemetery in Wrightstown, NJ.
Funeral arrangements are under the direction of Bongiovi Funeral Home Raritan, NJ (908) 725-1887 utilizing the Branchburg Funeral Home facility.
"FOREVER IN OUR HEARTS"