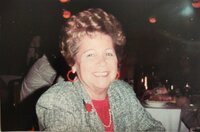 Carmella Cirillo
Bridgewater NJ
Carmella Cirillo passed away peacefully in the early morning of July 12, 2022 at the age of 98. She was born on February 14, 1924 to Marino and Anna Cirillo in Plainfield New Jersey. Carmella was a great cook who made the best meatballs, loved to dance at the Italian American Club and enjoyed traveling especially to Florida. She belonged to the traveling seniors for years and enjoyed going on all their trips. Every night, her favorite show to watch was Wheel of Fortune. She was also a huge fan of the New York Yankees and would watch every game.
Carmella worked at Lehn and Fink for 20 years and retired in 1989. After her retirement she worked at the Bound Brook Library for five years. Carmella loved to spend time with her family. The first thing she would ask when you came to visit was, "Did you eat?". She would never let you leave her house without a full stomach and even have you bring food home with you.
She loved and cared for her family so deeply throughout her long, fulfilling life. Carmella was predeceased by her husband Anthony J Quadagnito, her son Anthony J. Quadagnito Jr. sisters Mary Wood, Martha Miller and Vera Perrino. She leaves behind her daughter Angela Ross, grandchildren, Paul Giamella, Stacey Rutski and Christy Owsik and her dear great grandchildren Riley, Richard, and Ryan Rutski to cherish her loving memory. She was a loving mother, grandmother , great-grandmother, sister and friend to many. She will be missed by all who knew her.
A viewing will be held on Monday July 18, 2022 from 3:00pm to 6:00pm at the Bongiovi Funeral Home 416 Bell Avenue Raritan NJ 908-725-1887. A private burial of her cremains will take place at St Bernard Cemetery at a later date.
"FOREVER IN OUR HEARTS"