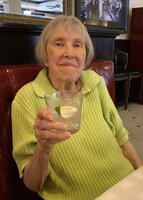 Catherine L. Colanterino
SOMERVILLE- Catherine L. Colanterino, 87, died on Sunday, May 1, 2022 at her home surrounded by those who loved her. She was born on August 21, 1934 in Raritan, NJ to the late Anna and Howard Leggett.
Catherine was loved by many over her lifetime. She was warm, funny and a great lover of animals, especially cats and giraffes. Unable to have children of her own, she adopted two children and raised them by herself, after the death of her first husband, and took a job at their elementary school in order to stay close to them. She helped her daughter Karen raise her two children, especially after the death of their father. Catherine knew the value of family and the importance of sacrificing for those she loved.
Catherine is survived by her beloved daughters Karen A. Havay and Jen Ventimilia, cherished grandchildren Anthony and Lucas Havay and Jack and Cleo Ventimilia and many nieces and nephews. She is predeceased by her husbands Russell Ventimilia and Clarence Colanterino and a sister Mary Doescher.
Private funeral services are under the direction of the Bongiovi Funeral Home 416 Bell Avenue, Raritan, NJ (908) 725-1887. To send an on-line condolence visit www.Bongiovifuneralhome.com
In lieu of flowers donations may be made in her memory to the American Lung Association.
"Forever in our Hearts"