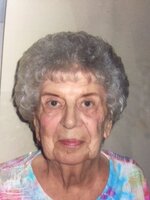 Elsie M. Stankowitz
FORT MYERS, FLORIDA formerly of BRIDGEWATER - Elsie M. Stankowitz, 94, died on Monday, April 25, 2022. She was born on March 20, 1928 in Somerville, NJ to the late Emma and Olivo DeLorenzo.
Elsie was originally from Raritan, NJ then resided most of her life in Bridgewater, NJ before moving to Fort Myers, Florida in 2016. She was a Quality Control Technician at RCA. Elsie was a member of the Raritan Senior "Golden Age", a member of the Bridgewater Seniors and a member of the RCA Union #439. Elsie volunteered for many years at the annual St. Ann's Festa. She love to travel to Florida to enjoy the warm weather. Above all, Elsie cherished her grandchildren. She was a kind and gentle woman who will be missed by all who knew her.
Elsie is survived by her beloved daughters Karen Primm (Jack) and Gail Rygiel (Glenn), and loving grandchildren John Healy, Rocco Rygiel and Niki Rygiel. She is predeceased by her husband Rudolph J. Stankowitz, a brother Elmer DeLorenzo, her sisters Doris Rizzo, Olympia Olen and Norma Rabcyzak.
Visitation from 9:30am to 10:30am Monday, May 2, 2022 at the Bongiovi Funeral Home 416 Bell Avenue, Raritan, NJ (908) 725-1887 followed by a Funeral Mass 11:00am at St. Ann Church 45 Anderson Street, Raritan, NJ. Interment at St. Bernard Cemetery, Bridgewater, NJ. To send an on-line condolence visit www.Bongiovifuneralhome.com
In lieu of flowers donations may be made in Elsie's memory to the Leukemia Society or St. Jude's Children Research Hospital.
"Forever in our Hearts"