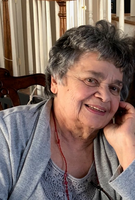 Filomena DiGiuseppantonio
Raritan NJ: Filomena DiGiuseppantonio, 81, entered eternal life on Thursday March 17, 2022, in Raritan NJ. She was born in Somerville NJ on April 17, 1940, to her loving parents the late Maria and Vincent Puntillo.
Filomena worked for many years manufacturing electronic chip for RCA in Bridgewater NJ and Lytle Electronics in Branchburg NJ. She was a friendly face for many years at the Raritan Towne Pharmacy in Raritan NJ. She also worked for Giorgio's Dry Cleaning in Bridgewater NJ. The job she enjoyed most was being a mother, grandmother, great-grandmother, and friend to many. Filomena loved going to Atlantic City and attending Tricky Tray events. She was outgoing and friendly and cared for others more than she cared for herself. She will be missed by all who knew her.
Filomena is survived by her loving children, her son Joe DiGiuseppantonio and wife Lisa of Lake Como NJ, and daughters Rosemarie Adams and husband Wayne of Bridgewater NJ and Lora DiGiuseppantonio of Bridgewater NJ. She is also survived by the joys of her life her 5 grandchildren, Bryan, Kayla, Courtney, Dylan, and Peter and her 7 great grandchildren Aiden, Troy, Romeo, Morgan, Owen, Joel, and Riley.
Filomena was predeceased by her loving parents Maria and Vincent Puntillo and her brothers James Puntillo, and Sebastian Puntillo and her sister Madeline Marcinko.
Family and friends are welcome to gather for a visitation on Tuesday March 22, 2022, between the hours of 2:00pm and 5:00pm at the Bongiovi Funeral Home 416 Bell Avenue Raritan NJ 908-725-1887.
Burial will be private.
In lieu of flowers donations can be made in Filomena's name to St Ann Catholic Church 45 Anderson Street Raritan NJ 08869.
"FOREVER IN OUR HEARTS"