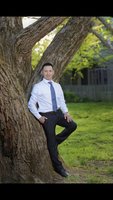 Jorge Herrea- Salmoran
Doylestown, PA.- Jorge Herrera-Salmoran, 33, died on July 6, 2021. He was born on July 7, 1987 in Oaxaca, Mexico.
Jorge was a hard worker and the owner of J Handyworks in Doylestown, PA. He enjoyed fishing, hiking and good food. Jorge was generous, helpful and had a great personality. He will be remebered as a devoted husband, father and son. All who knew him will miss his smile.
Jorge is survived by his beloved wife Tania, cherished son Jorge Benjamin Herrera-Garcia, his loving mother Guadalupe Salmoran Morena, a brother Damien and 2 sister.
Visitation from 10am to 12pm Wednesday, August 4, 2021 at Living Hope Church in Pekasie, Pa followed by Interment at Doylestown Cemetery, Doylestown, Pa.
Arrangements are under the direction of Bongiovi Funeral Home, Raritan, NJ (908) 725-1887
"Forever in our Hearts"