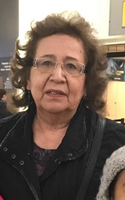 Rosa Maria Carranza
Rosa Maria Carranza, 72, was born on October 13, 1948 and died peacefully on June 23, 2021.
Rosa Maria was born in Cartavio, Trujillo, Peru to her loving parents Mrs. Leonila Alva Rubio Carranza and Mr. Manuel Carranza. She attended La Universidad National del Callao in Lima Peru. She also earned her Bachelor's degree majoring in biology and chemistry at Kean University in NJ and worked as a Lab Technician at BASF in Iselin NJ for 32 years.
Rosa Maria's zest for life included her love for traveling. She visited over 70 countries. She loved talking and spending time with her family and friends in NJ and in Peru. She volunteered with Safe and Sound, Domestic Violence Dept., for the past three years at the Somerset County Court House.
Rosa Maria is survived by her sister, Amelia Elizabeth Carranza Alva, her brothers, Jorge Carranza Alva and Manuel Carranza Alva, her nieces Ana Arana and Nancy Arana Lewis and her nephew Carlos M Arana, her great-nephew Ismael E Quinones, her great-niece Iliana Sasha Quinones and her great-nephew Israel Elijah Quinones.
Rosa Maria was very much loved by her family and friends, she will truly be missed and will live in her family's hearts forever.
A viewing will take place on Wednesday, July 28, 2021 between 10:00am and 12:00pm at the Bongiovi Funeral Home 416 Bell Avenue Raritan NJ (908) 725-1887. Burial will follow at St Bernard Cemetery Rt 28 Bridgewater NJ.
"Forever in our Hearts"