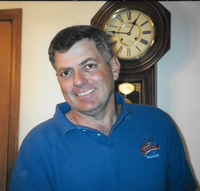 William "Bill" Pugh III
William Pugh III ("Bill"), 66, of Hillsborough, NJ, passed away peacefully on July 20, 2021, at Penn Medicine Princeton Health surrounded by his wife and three sons.
Funeral service will be held at St. Ann Roman Catholic Church located at 45 Anderson St, Raritan, NJ 08869 on July 30, 2021, at 10:00 am. Visitation will be held at Bongiovi Funeral Home located at 416 Bell Avenue, Raritan, NJ 08869 on July 29, 2021, from 3:00 pm to 4:00 pm.
Bill was born in New Brunswick to William and Eleanor Pugh on July 20, 1955. He went to Edison High School and graduated in 1973. He went on to earn a bachelor of science degree from Cook College, Rutgers University. He worked as a Plant Manager for Industrial Tube Corporation.
Bill was an avid outdoorsman who enjoyed gardening, hunting, and birdwatching. He was also a skilled handyman who loved to take on any challenge, a fan of country music, and enjoyed barbequing and smoking foods. Bill was a dedicated father who was incredibly active in his sons' lives and attended or volunteered at every game, concert, and other extracurricular events. His faith was an important part of his life.
Bill is survived by his parents, William and Eleanor Pugh of Hillsborough, NJ; his sister, Maureen Van Doren of Montrose, CO; his wife, Grace A. Pugh of Hillsborough, NJ; his son William Pugh IV of New York, NY; his son Joseph F. Pugh of Hackettstown, NJ; his daughter-in-law Danielle Pugh of Hackettstown, NJ; his son John T. Pugh of Hillsborough, NJ; and his grandson Gavin J. Pugh of Hackettstown, NJ.
In lieu of flowers, memorial donations may be made to Penn Medicine Princeton Health Foundation designating donations to the Palliative Care Program, 5 Plainsboro Rd #365, Plainsboro Township, NJ 08536.
"Forever in our Hearts"