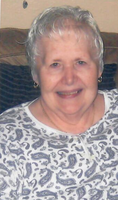 Mildred Stein
HILLSBOROUGH- Mildred Stein, 82, died on May 21, 2021. She was born on November 25, 1938 in Somerville, NJ to the late Mary and Joseph.
Mildred is predceased by her parents and a sister Jeanette.
Funeral arrangements are private under the direction of AAA B Cremation Service 416 Bell Avenue, Raritan, NJ (908) 541-9997.
"Forever in Our Hearts"