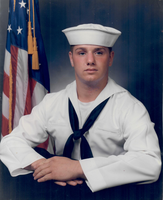 Scott M. Gaburo
CLINTON- Scott Matthew Gaburo, 49 died Sunday, April 25, 2021. Born May 10, 1971 in Raritan, NJ, as a young boy Scott enjoyed spending summer s in Port Richey, Florida. He loved BMX bike racing and as a teenager rose to the number 2 ranking in the state of New Jersey. A graduate of Bridgewater Raritan HS West, Scott went on to learn a trade as a diesel mechanic at the Lincoln Technical Institute. Upon graduation Scott enlisted in the United States Navy where he served honorably during the First Gulf War. He was stationed on the USS Boulder, a tank landing ship where he put his skills as a diesel mechanic to work for his country. After leaving the Navy, Scott came home to Raritan and went to work for NJ Transit's Rail Division. His hard, dedicated work was noticed by many as he rose through the ranks. He cherished the friendships he made there over the years. Scott was an avid Notre Dame and Washington Redskins Football fan. He also loved to fish. He married Michele Lembo in 1999 and was blessed with two beautiful sons Ian and Jesse both of Clinton, his beloved mother Carol Overk Laggini of Raritan, his brother Alfred Gaburo Jr. (Margaret Windrem) of Montgomery, a niece Adele Gaburo, a sister Hope Gaburo, step mother Denise Gaburo of Flemington and an uncle Tom Gaburo (Jodi) of Arizona. He was predeceased by his father Alfred Gaburo (2016), his grandparents Alfred T. Gaburo, Laura Gaburo, Alexander Overk, Lillian Donovan and his step father Victor Laggini, Sr.
A Memorial Service in celebration of Scott's Life will be held 11:00 am Thursday, June 3, 2021 at St Ann's Church 45 Anderson Street, Raritan followed by a private family burial at St. Bernards Cemetery, Bridgewater. Arrangements by Bongiovi Funeral Home 416 Bell Avenue, Raritan, NJ (908) 725-1887. To send an on-line condolence visit www.Bongiovifuneralhome.com
In lieu of flowers donations may be made in his memory to Our Lady of Lourdes Hospital Foundation 1600 Haddon Avenue, Camden, NJ 08103
"Forever in Our Hearts"