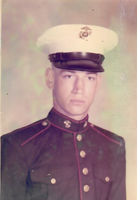 Steven Guinaud
Raritan - Steven Guinaud passed away at home surrounded by his loving family on March 13, 2021. He was born on July 9, 1952 to the late Leon and Barbara Guinaud of Martinsville, NJ.
He was 68 years old. He is survived by his wife Linda, his children Rosa and Brian Sauers of Hillsborough, Maria Elliott of Raritan, Catherina and Ryan Dwoark of Pennsylvania, Linda Cecilia Orlowoski of New York, Damian and Leah Sian of Branchburg, and his 4 sisters.
He was known as Pop Pop to his 9 grandchildren, and his 8 great grandchildren. Steve was a devoted husband and enjoyed spending time with his family whom he loved very much. He was a jack of all trades who could fix anything that was in need of fixing. During a time of war, he answered the call to serve his country honorably as US Marine from 1970 - 76 aboard the USS Newport News. In his free time, he enjoyed spending time with his family, reading about Civil War history, and connecting with his shipmates from his time in the service of our nation. He provided a forever home to many animals in need of rescue showing them great compassion and love. Semper Fi our Floomadogchicken.
Funeral services are private under the direction of Bongiovi Funeral Home, Raritan, NJ 908-725-1887.
"FOREVER IN OUR HEARTS"