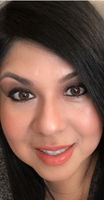 Evelyn Montreuil
Evelyn Montreuil, 46, died on March 10, 2021. She was born on September 28, 1974 in Lima, Peru.
Evelyn was a fun and loving woman. She enjoyed life and cherished every moment spent with family and friends.
Evelyn is survived by her beloved husband Williar Azabache, her loving son Nicholas Azabache, her mother Julia Jimenez., a brother Jahir Susanibar and her cherished extended family.
Visitation from 6:00pm to 8:00pm Friday, March 12, 2021 at Bongiovi Funeral Home 416 Bell Avenue, Raritan, NJ (908) 725-1887. Burial 12:30pm at St. Bernard Cemetery, Bridgewater, NJ.
"FOREVER IN OUR HEARTS"