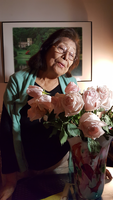 Margarita Gonzalez
Margarita Gonzalez, 84 begun her eternal journey at her home on December 23, 2020, with her daughter and puppy by her side. She will be truly missed by her family and friends.
Margarita raised two children and one grandson. A beautiful woman inside and out with a strong spirit, full of faith. She radiated joy and happiness all the time. She was a protective mother and grandmother, always making sure no one could harm her children in any way and she carried that protectiveness to her work, as a teaching assistant at the Debbie School of the University of Miami; where many of the children in her classes had some type of disability. She was generous with her love, her students and their parents loved her and always lamented when it was their time to move to another class away from her.
Margarita loved to cook for her family and had an amazing talent for creating the most tasteful dishes from scratch. In her retirement, she enjoyed traveling, swimming, gardening, practicing her English, learning calligraphy, watching nature TV programs, and long walks in the park with her puppy Canela.
Margarita is survived by her daughter Ayda, her son Wilky and his wife Derya, her loving grandsons Christopher and Alexio and her great grandson Devran. She was predeceased by her parents.
The family has chosen a private viewing and a private service.