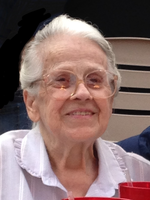 June DePiano
Date of death: August 7, 2020
June (Chilcoat) De Piano, age 93 of Maple Avenue, Grafton, WV passed away Friday, August 7, 2020 at her son's home with her family by her side. Mrs. De Piano was a long-time resident of 81 Woodlawn Avenue, Bridgewater, New Jersey.
Born May 31, 1927 in Spokane, WA. She was the daughter of the late Vincent and Catherine (Smith) Chilcoat. At the age of 3, following the death of her mother, June and her twin sister relocated to Mount Union, PA to live with their paternal grandparents, the late Mr. and Mrs. Frank Chilcoat. June moved to New Jersey after graduating high school. She married Anthony "Tony" De Piano on March 16, 1947. Her husband preceded her in death on March 4, 1986.
She is survived by her only child and son, Alan R. De Piano and wife Cathy of Grafton; two grandchildren, Sara J. De Piano of Grafton and Alex A. De Piano and wife Alexia K. of Bridgeport, WV; one great-granddaughter, Adalai R. De Piano; sister-in-law Anna Peppi of Clearwater, FL; special nieces, Patty Kravits and Cathy Heck Stone and several other nieces and nephews.

In addition to her parents and husband, she was preceded in death by her twin sister, May Heck and brother-in-law, Richard Heck.

June was a waitress at the De Piano Diner in Bridgewater, NJ until it closed. She enjoyed her family, loved flowers and all of her cats and dogs over the years.

Bongiovi Funeral Home, Raritan, NJ will make the arrangements for the burial at St. Bernard's Cemetery, Raritan, NJ. There will be visitation from 10am to 12pm on Friday, August 14, 2020 at the funeral home.
"FOREVER IN OUR HEARTS"