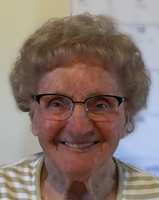 Marie Urbanowicz
MANVILLE- Marie Urbanowicz, 93, died on Sunday, July 5, 2020 at home, surrounded by those she loved. She was born in Manville on February 22, 1927, to her parents, John and Mary Shutack. Marie was a wonderful mother, grandmother and great-grandmother. She was a kind, caring and generous person and will be sadly missed by all who knew her.
Marie is survived by her children, Kathleen Hudson (William), Lawrence (Stephanie), Mark (Donna), Diane Towle (Van) and Lisa Spiller (Kenneth); thirteen grandchildren, Jill, Katie, Kyle, Dawn, Walter, Timothy, Craig, Bryan, Tracy, Derek, Neil, Colleen and Stephen and 12 great-grandchildren; and her sisters Evelyn and Margaret She was predeceased by her loving husband Walter "Curley" (2013) after 65 years of marriage; son, Robert (1951); brother, John Shutack and sister, Helen Plaskon.
Marie was a faithful communicant of Christ the Redeemer Parish in Manville. She worked for RCA Corporation, Zeus Incorporated, and JELCO Laboratories. Marie was a talented seamstress and prolific needle worker who loved to crochet. She was a hard worker who always made sure her children and grandchildren had what they needed. Marie was a life-long animal lover and spent her last days comforted by her devoted dog, Toby.
In lieu of flowers, donations can be made in memory to the American Cancer Society, Christ The Redeemer Parish or St. Hubert's Animal Welfare Center.
Funeral services are private.
"FOREVER IN OUR HEARTS"