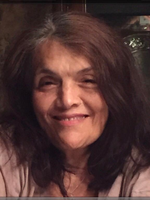 Melanie A. Heim
Melanie Heim, 64, of Bridgewater, NJ was born on October 29,1955 and passed away on December 5,2019. She was born in Somerville, NJ, daughter of Francis and Adele D. Papera of Raritan NJ. She was predeceased by her loving husband, Robert A. Heim and her father Francis C. Papera.
Melanie graduated from Bridgewater Raritan High School in 1974. She went on to work at United National Bank and later worked at Eastern Star Home in Finderne, NJ in Office Administration.
Melanie was a lover of her family, friends and above all her dogs, who were her children. She poured so much love into her pups, that they amazingly stayed with her 20 plus years. Melanie was also a lover of collectibles and antiques so we could always find her near or far at a yard sale on the hunt for her next treasure. Melanie's personality was warm and kind, you would always have a good laugh when Mel was around with her silly sense of humor that would always include a splash of wine that would end up being a tsunami and very well would conclude with a fall on the floor but always managing to pick herself up, dust herself off and carry on with life.
Melanie is survived by her mother Adele Papera of Raritan, her loving sisters & brother in laws; Carole & Robert Powers of Piscataway, Deborah Rowland of Branchburg, Frances and Joseph Gyurian of Raritan and Diletta & Robert Satriano of Califon. She is also survived by her nieces and nephews; Leslie & Joseph Morales, Kimberley Harcarik, Robert Kozic, Andrew Harcarik, Justin Rowland, Christopher & Ashley Rowland, Michael Harcarik, Bobby Satriano and her great nieces, Sophia Grace Morales & Aubrie Bella Rowland and last but not least her loving dog companion, Goldie Heim. Melanie will be missed but never ever forgotten.
Visitation from 2:00pm to 6:00pm and a Religious Service 4:00pm on Sunday, December 8, 2019 at the funeral home. Cremation is private.
"FOREVER IN OUR HEARTS"