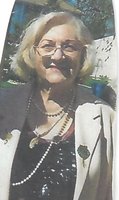 Rina Alba Ehrhardt
HILLSBOROUGH, NJ- A Hillsborough resident of 44 years, Rina Alba Zanusso Ehrhardt, 92, passed away peacefully on November 21, 2019 at home. She was born on July 24, 1927 in Cimadolmo, Italy to the late Francesco and Ester Zanusso.
At the age of 2 years old, Rina immigrated to the United States. Despite a very meager beginning in this country, she went on to graduate from Jersey City State Teacher's College. Rina was employed as a teacher in Roselle Park for 20 years. Devoted to her Catholic faith she was a CCD teacher for approximately 50 years, President of the Altar Rosary Society in Hillsborough and a longtime lector at her parish Mary, Mother of God up until her death. On August 2, 1953 she married her one true love, Fredrick H. Ehrhardt. Together they raised their family in Bayonne, Carteret, and Hillsborough. She was very active in her local community. Rina was a member of the Welcome Wagon for 7 years, provided samples to grocery store customers and volunteered at many polling stations over the years. In her spare time, she crocheted hats, scarves and afghans for the VFW in which she held President status for a year. In her later years, Rina enjoined the Senior Center where she exercised, did crafts and traveled. She won first place in recipe contests for her asparagus canapes, sour cream peach cake and her apricot pecan stick recipes. Rina loved to cook, especially for her family and friends.
Rina is survived by her three loving children Fred of Hillsborough, Ron and his wife Linda of North Brunswick, and Rina Helmstetter and her husband Bill of Bridgewater. Her cherished grandchildren Michael, Deanna, and Ryan. She is preceded in death by her husband Frederick.
Visitation, Monday, November 25, 2019 from 4:00pm to 8:00pm and Tuesday, November 26, 2019 from 8:15am to 9:15am at Bongiovi Funeral Home 416 Bell Avenue, Raritan, NJ (908)725-1887. Funeral Mass will be 10:00am on Tuesday, November 26, 2019 at Mary, Mother of God Church in Hillsborough, NJ. Burial will follow at Sacred Heart Cemetery in Manville, NJ.
"FOREVER IN OUR HEARTS"