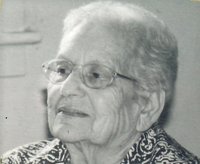 Mildred "Millie" Allegar
SOMERVILLE- A lifelong resident of Somerville, Mildred "Millie" Allegar, 94, died Tuesday, November 5, 2019. She was born on January 15, 1925 in Pennington, NJ to the late Angelina Gervasio and Antonio Russo.
Millie graduated Somerville High School and was employed in Medical Records at Somerset Medical Records Department for 10 years. She enjoyed driving, attending family gatherings and spending time at the Jersey Shore in Lavalette. Mildred was a devoted wife, mother and grandmother who will be remembered by all who knew her as a kind, caring and loving woman and friend.
Millie is survived by her loving children Irving W. "Billy" Jr., Jeffrey and wife Nicole, Dr. Nancy Allegar and husband Dr. David Christiansen, Cynthia Koerber and husband Dr. Richard Koerber, cherished grandchildren Matthew and Brian Koerber, Abigail and Benjamin Allegar. She was predeceased by her husband Irving Allegar, Jr. Dec. 24. 2003, her siblings Frank, Joseph, Virginia, Susan, Rosie and Angelina.
Viewing is Friday, November 8, 2019 from 4pm to 8pm and Saturday, November 9, 2019 from 9am to 10am at Bongiovi Funeral Home 416 Bell Avenue, Raritan, NJ (908) 725-1887. Funeral Mass 10:45 am on Saturday, November 9, 2019 Immaculate Conception Church 35 Mountain Avenue, Somerville, NJ followed by burial at St. Bernard Cemetery, Bridgewater, NJ.
"FOREVER IN OUR HEARTS"