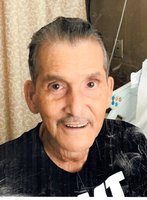 Thomas Pisciotta
Bridgewater – Thomas A. Pisciotta, 64, died Friday, June 14, 2019. He was born on May 25, 1955 in Orange, New Jersey to his late parents Haydee and Anthony Pisciotta. He will be remembered as a beloved father, grandfather, brother and loyal friend.
Thomas is survived by his loving daughter Jennifer, two cherished grandchildren Chanel and Madison, his sisters Donna Palumbo and husband Vic, Margaret Linares and Rebecca Figueroa, a brother Matthew Colglazier and wife Jeannette and a stepmother Lillian Pisciotta.
Thomas was also a military veteran, he served in the United States Army. He always had a keen sense of humor and a generous and kind heart. He was a lover of antique cars and enjoyed a day of fishing. Thomas will be missed by all who knew and loved him including his re-kindled love "Boo".
Thomas is predceased by his parents and two brothers Joseph Pisciotta and Reinaldo Figueroa.
Services will be private.
"FOREVER IN OUR HEARTS"