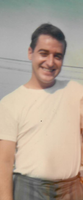 Normand C Lefebvre
Normand C. Lefebvre 81, passed away peacefully on Tuesday, May 28, 2019 . He was born November 17, 1937 in Central Falls, Rhode Island.
Normand's family was a very large part of his life, his loving wife June of over 55 years. His Daughter Laura, Sons Normand and Christopher. Two Brothers, Raymond (Debbie), Edward and his Granddaughter Christiana.
Normand served our Country for 45 in the U.S. Army and the Nation Guard . One of his biggest loves was to the United States and the Veterans who served her. Normand was a volunteer fireman for 35 years, with the Green Brook Fire Department. He loved to play the guitar and sing and was an inspiration to his young son who learned from his Dad to play guitar, drums and sing. Normand was alway a loving and devoted husband, father and grandfather.
He will always be remembered as a true American who loved and fought for his country and its people.
"Forever in Our Hearts"