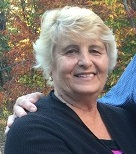 Maryann Stiuso
Bridgewater:
Maryann P. Stiuso 75, died Thursday, May 2, 2019, surrounded by her loving family. She was born on November 14, 1943 in Pennsylvania. Maryann resided in New York, Irvington, NJ before moving to Bridgewater, NJ with the love of her life George.
Maryann was employed as the Benefits Coordinator in Human Resources at Somerset Medical Center in Somerville, NJ. In her spare time, she enjoyed the beach especially the Jersey Shore and spending time at her condo in Florida. Maryann was a dedicated and loving wife, mother, grandmother and friend. All who knew her will miss her kind and gentle smile.
Maryann is survived by her beloved husband George, loving son George (Lynn), daughter Helene Molino (Frank), cherished grandchildren Frankie, George, Jacqueline, Michael, Leanne, 2 brothers Eddie and George, a sister Francine, and a brother-in-law Edward.
She was predeceased by her parents Helen and Pasqual Mileo, and in-laws Edward and Helen Stiuso.
Visitation will be on Monday, May 6, 2019 from 2-4pm and 7-9pm and 8-8:45am Tuesday, May 7, 2019,
Funeral Mass on Tuesday, May 7, 2019 at 9:30am Immaculate Conception Church 35 Mountain Avenue, Somerville, NJ followed by an Entombment at Somerset Hills Memorial Park in Basking Ridge, NJ.
"FOREVER IN OUR HEARTS"