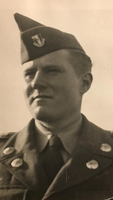 William Welch Murphy
Bridgewater
William W. Murphy, Sr., 90, passed away peacefully on Thursday, February 28, 2019 at his home with his family by his side. He was born March 13, 1928 in Fall River, Massachusetts. After serving in the U.S. Army during the Korean War, he graduated from Rutgers Law School. He was an Attorney at Law with a private practice in Bridgewater, NJ. He also taught the Irish language and earned a gold Fáinne for his fluency.
He is survived by his loving wife, Kathleen, his six devoted children John, Patricia, William, Joseph, Stephen and Pamela and his nine beloved grandchildren Mairin, Matthew, Evelyn, Megan, Tara, Stephen, David, Patrick and Jack.
He will be remembered for his dedication to his family, his remarkable wit and great sense of humor.
Funeral Mass will be Thursday, March 7, 2019 10:30am at St. Bernard Church, Bridgewater, NJ.
Burial will be conducted Thursday, March 7, 2:30pm at Brigadier General William C. Doyle Veterans Memorial Cemetery.
"FOREVER IN OUR HEARTS"