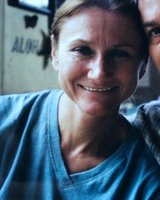 Bridget Marshall
Flemington:
Bridget A. Marshall 61, died Thursday, January 24, 2019. She was born to her dear parents Benedict and Agnes (Galmus) Marshall. Bridget loved her family and was a loving mother, grandmother and friend. She was a kind, caring, generous woman.
Bridget is survived by her daughters Lauren (Stephen Hurst) Watson, Brittney, brother Mark (Antonia) and her granddaughter.
Bridget is predeceased by her parents and sister Dianne.
Private viewing and cremation at Somerset Hills Memorial in Basking Ridge, NJ.
Funeral arrangements are under the direction of Bongiovi Funeral Home, 416 Bell Avenue, Raritan, NJ 08869
"FOREVER IN OUR HEARTS"