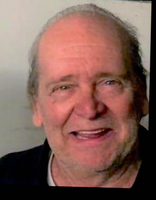 Raymond Garfield Unangst, Jr.
Raymond Garfield Unangst Jr., 72 died Saturday, January 19, 2019. He was born in Somerville NJ to his parents Lois (Colbaugh) and Raymond Unangst Sr.. He will be remembered as a beloved father, grandfather, great grandfather, brother and loyal friend.
Raymond is survived by his four daughters Bonnie Lynn (Kenneth) Sarley, April Lynn, Maureen Ann, Dana Christine (Tony) Spencer, his four sisters, Shirley, Lois, Wanda, Debbie, his ten grandchildren, and his 2 great granddaughters.
Raymond was pre-deceased by his parents and brother Troy.
Viewing will be held Wednesday, January 23, 2019, 2-5pm,
"FOREVER IN OUR HEARTS"