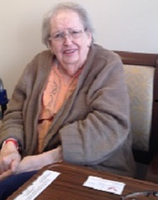 Barbara Myriel Potocki
Barbara Myriel Potocki 86, died Wednesday, January 2, 2019. She was born to her dear parents Cecil and Myriel Ball. Barbara loved her family and was a devoted wife, mother, and grandmother. She was a kind, caring, generous woman. Barbara liked crocheting, playing bingo, and crossword puzzles. She also volunteered her time helping at the Somerville Senior Citizens Building.
Barbara is survived by her her son Kenneth (Tracy) Potocki, three daughters Laura (Glen) Palmer, Karen (David) Baez, Cynthia Acosta, and her eight grandchildren, Jonathan, Joseph, Alyssa, Nicholas, Franki, Jillian, Joseph, and Fausto.
Barbara is predeceased by her husband, Stanley, son David and her parents.
Memorial Service will be Saturday, January 12, 2019 12-3pm.
Memorial contributions may be made in her memory to either the ASPCA or the American Lung Association.
"FOREVER IN OUR HEARTS"