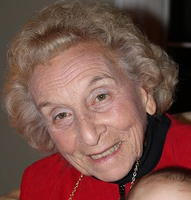 Rachael Grace Parlatore
Rachael Grace Parlatore 95, died Thursday, January 3, 2019. She was born to her dear parents John and Rose (Ruggiero) Dandola. Rachael loved her family and was a devoted wife, mother, grandmother and great grandmother. She was a kind, caring, generous woman.
Rachael is survived by her son-in-law, Bruce Roznowski, her 4 grandchildren and 6 great grandchildren.
Rachel is predeceased by her husband Gildo, her daughter Adrienne Roznowski.
Funeral Mass will be Monday, January 7, 2019 10am at St. Ann Church in Raritan
Entombment at Hollywood Memorial Park and Cemetery, Union, NJ.