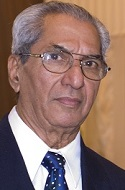 George Anthony DMello
George Anthony DMello, 83, of Monroe Township, died peacefully at Robert Wood Johnson Hospital in New Brunswick, NJ on November 12, 2018. He was born in India to his parents Anthony and Lucy D'Mello. He will be remembered as a beloved husband, father, grandfather and loyal friend.
George is survived by his wife Loretta, his three sons Sujit (Michelle), Naresh, and Vidram (Anupa) and his four grandchildren Kane, Cameron, Natasha, and Raoul.
George was pre-deceased by his parents.
Viewing will be held Saturday, November 17, 2018 between 1:00pm and 3:00pm at Bongiovi Funeral Home 416 Bell Avenue, Raritan, NJ (908)725-1887.
To Send an on-line condolence visit www.bongiovifuneralhome.com
"FOREVER IN OUR HEARTS"