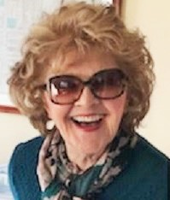 Martha A. Davis
Martha A. Davis of Hillsborough, New Jersey, passed away on November 7, 2018 after a brief illness. Martha was born on September 30, 1937 in Bonyhad, Hungary.
As described in her book, Going Home: Memoir of an Immigrant, Martha led a fascinating and interesting life. After immigrating to the U.S. with her parents and sisters in 1950, Martha became a proud U.S. citizen in 1956. She married her husband, Edmund Davis, in 1957 and was a devoted wife and wonderful mother to her two sons, Bryan and Timothy. Additionally, Martha worked for many years at Johnson & Johnson, and continued to enjoy friendships with her J&J colleagues long after her retirement. Following Edmund's death in 1998, Martha actively embraced volunteering in her community. She was particularly involved with Literacy Volunteers of Somerset County (LVSC), where she served as Board President for many years. Literacy and providing opportunities to those for whom English is not their first language was her passion. Martha also enjoyed volunteering at the Robert Wood Johnson University Hospital in Somerset where she was a longtime, popular and welcoming presence for hospital visitors. Martha was actively involved in the lives of her grandchildren, Caroline, Emily, Hunter and Peter, and she was very proud of each of them.
Martha was predeceased by her parents, Rudolf Lotz and Elizabeth Dormer Lotz, her husband Edmund, and her sister Ilona Vigliotti. She is survived by her sons Bryan (Sissy) and Timothy (Karin), grandchildren Caroline, Emily, Hunter and Peter, sister Betty Nagy, niece Adrienne (Jim) Meredith, grandnieces Flora and Zoe, and nephew Dominic Vigliotti.
Martha's ashes will be inurned alongside Edmund's in a private family ceremony. A celebration of Martha's remarkable life and the positive and loving impact she had on her family, friends and community will be held on Sunday, November 18, 2018, at the Bridgewater Marriott at 700 Commons Way, Bridgewater, New Jersey 08807, telephone (908) 927-9300, from 3:00 p.m. – 5:00 p.m. All of Martha's many friends are invited.
In lieu of flowers, donations may be made to LVSC at 120 Finderne Avenue, Box 7, Bridgewater, New Jersey 08807, or a charity of your choice.