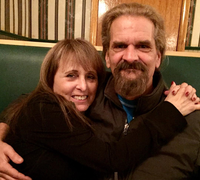 Joseph S Barone
Joseph Shawn Barone, 59, Whitehouse Station NJ, passed away peacefully with family by his side, on Monday, September 3, 2018 at RWJ Hospital in Somerville. He was born on December 5, 1958 in Somerville NJ to his parents Mae (Butch) and Cosimo Barone. Shawn was a Musician known for his talent in song writing and playing the guitar. He was a part of several bands including Kashmir, Bordello Brothers, 24 Karat, Loose Change, and South Paw. Shawn also taught music and was a mentor to many throughout his life.
Shawn was a loving and devoted husband, father and friend, who was always giving a helping hand. He deeply adored his grandson Appollo and loved his nephews Josh and Zachary and niece Rachel dearly. His kindness, wisdom, and sense of humor were staples of who he was. Shawn will never be forgotten and will be missed by all who knew him.
Shawn is survived by his loving wife of 36 years, Susan, daughter Maggie, son-in law, Nick Fazio, grandson Apollo, mother Mae, sisters Linda, Cindy, and Jennifer Breyan, niece Andrea Eagan, and grand-nieces Anika and Evie.
"FOREVER IN OUR HEARTS"