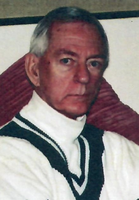 Benjamin M "Ben" Rasmussen
Benjamin M. Rasmussen, 79, Raritan, died peacefully on March 28, 2018. He was born on June 23, 1938 in Selma, CA, to his late parents Lydia (Busick) and Alfred Rasmussen. Ben graduated from the University of California, Berkeley with a BS in Soil Science and was the founder and president of BMR Associates. He was twice married and divorced.
Ben was recognized as an international expert in Advanced Composite Materials especially Carbon Fiber and Honeycomb, both providing minimal weight and maximum strength for composite systems. These materials are of significant importance for Aerospace, Aircraft, and Military industries. He was often sought out by clients representing multinational companies and government agencies for scientific, technical and marketing data related to advanced composite systems. As a member of the Society for the Advancement of Material and Process Engineering (SAMPE) for 50 years, he fulfilled many different duties of the New Jersey Chapter of SAMPE, serving as Chair with distinction and providing foresight and vision for the Chapter during his tenure. Within the Global SAMPE organization, Ben served as Chairman of various working committees, as International Secretary, as General Chairman of 7 International Conferences, and as a member of the SAMPE Foundation.
He also served on the Board of Directors and as the Concours Chairman of the Northern New Jersey Region (NNJR) of the Porsche Club of America (PCA), and, also as the New Jersey Area Tennis League Coordinator for the United States Tennis Association (USTA), Middle States Section, and on the Board of Directors of the USTA/Middle States Tennis Patrons Foundation.
He will truly be missed by all that knew him.
Ben is survived by his daughter, Alexandra Gayle Baskin, Tampa FL., a brother, Ronald Rasmussen, Sanger, CA, a niece Lori Rasmussen Pankratz and her husband Eric, Sanger CA, and several great-nieces and great-nephews. He will be especially missed by his friends, Christopher Aiello, Louis Pilato, Borys Schafrain, Christine Macur and Howard Klinger.
Memorial Service: Friday, April 6, 2018 from 2:00-4:00pm at Bongiovi Funeral Home, 416 Bell Avenue, Raritan, NJ 08869, (908) 725-1887. Burial is private.
Condolences may be sent to the family by clicking the link on the side.
"FOREVER IN OUR HEARTS"