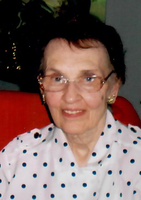 Gertrude "Gert" Stauff
Gertrude "Gert" Stauff, 90, of Raritan, died Monday, January 8, 2018. She was born October 18, 1927 in Ambridge, PA to her dear parents, Mary (Yancha) and Andrew Janecko. Gert lived in Raritan most of her life and was a Secretary for the American Heart Association in Somerville until her retirement in 1989. She was a parishioner of St. Joseph's RC Church in Raritan. Gert was an avid reader and loved movies, traveling, music and animals, especially her cat "Misty". She was a devoted wife, mother, daughter, aunt and friend and will truly be missed by all who knew her.
Gert is survived by her loving daughter, Elaine Stauff, her dear brother, Albert Janecko, a niece Mary Margaret Blum and a nephew Len Janecko. She was predeceased by her parents, a brother Edward, and her beloved husband, Robert (1974).
Viewing: Thursday, January 11, 2018, 2:00pm-4:00pm and 6:00pm-8:00pm and Friday, January 12, 2018, 8:00am-9:00am at Bongiovi Funeral Home, 416 Bell Avenue, Raritan NJ 08869, (908) 725-1887, followed by Funeral Mass at 9:30am at St. Joseph's Church, Raritan. Burial: St. Bernard's Cemetery.
"FOREVER IN OUR HEARTS"